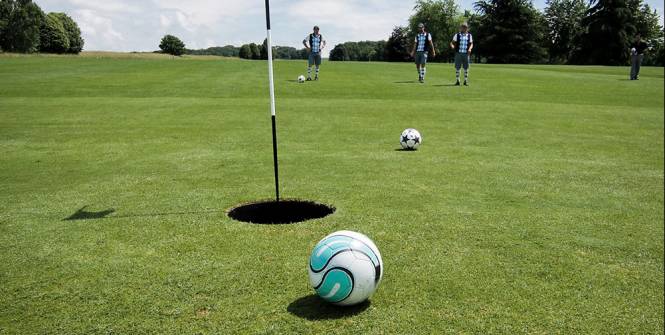 Milton Country Club is pleased to announce the addition of a brand new amenity to our already wide array of offerings….FootGolf!
What is FootGolf? FootGolf combines the popular sports of soccer and golf and is played using a soccer ball on a traditional golf course using 21-inch diameter cups. The rules largely correspond to the rules of golf. Like traditional golf, FootGolf is a precision sport with a goal of getting a soccer ball into a cup in as few shots as possible. The game is played with a regulation No.5 soccer ball on golf holes roughly half the distance of a traditional golf hole.
FootGolf uses golf's basic model including tee boxes, greens, bunkers, hazards, and 18 holes of play. Scorecards display par scores for each hole as in traditional golf. Unlike traditional golf, FootGolf is quicker to play, accessible to a wider range of players, and does not require expensive equipment to play. If you can kick a soccer a ball, you can play FootGolf. It's a sport for everyone!
It takes less than an hour to play 9 holes of FootGolf and, like traditional golf, FootGolf is also an excellent source of exercise. Our new FootGolf Course will be cross utilized for both FootGolf and for beginner golf programs designed to introduce new players to the game of golf.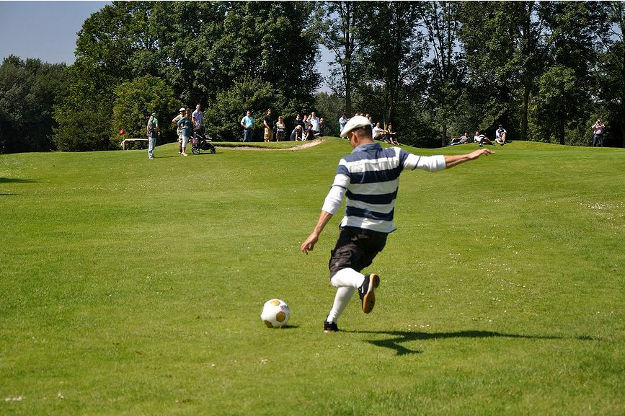 We encourage all our members to set up an introductory education and practice session prior to scheduling their first FootGolf tee time by contacting Chris Wright, Club Manager, at chris.wright@thecrookedcreekclub.com or call (470) 395-5004.